Piketberg Suggested Itineraries

PIKETBERG SUGGESTED ITINERARIES
This page is aimed at assisting self-drive tourists as well as tour operators to compile an itinerary of activities for their stay in Piketberg or the Bergrivier region.
Listed here, you will find 3 full day suggested itineraries as well as weekend Wellness Retreat itineraries.
Alternatively, visitors can contact our Visitor Information Centre for assistance to choose between a variety of free activities and attractions.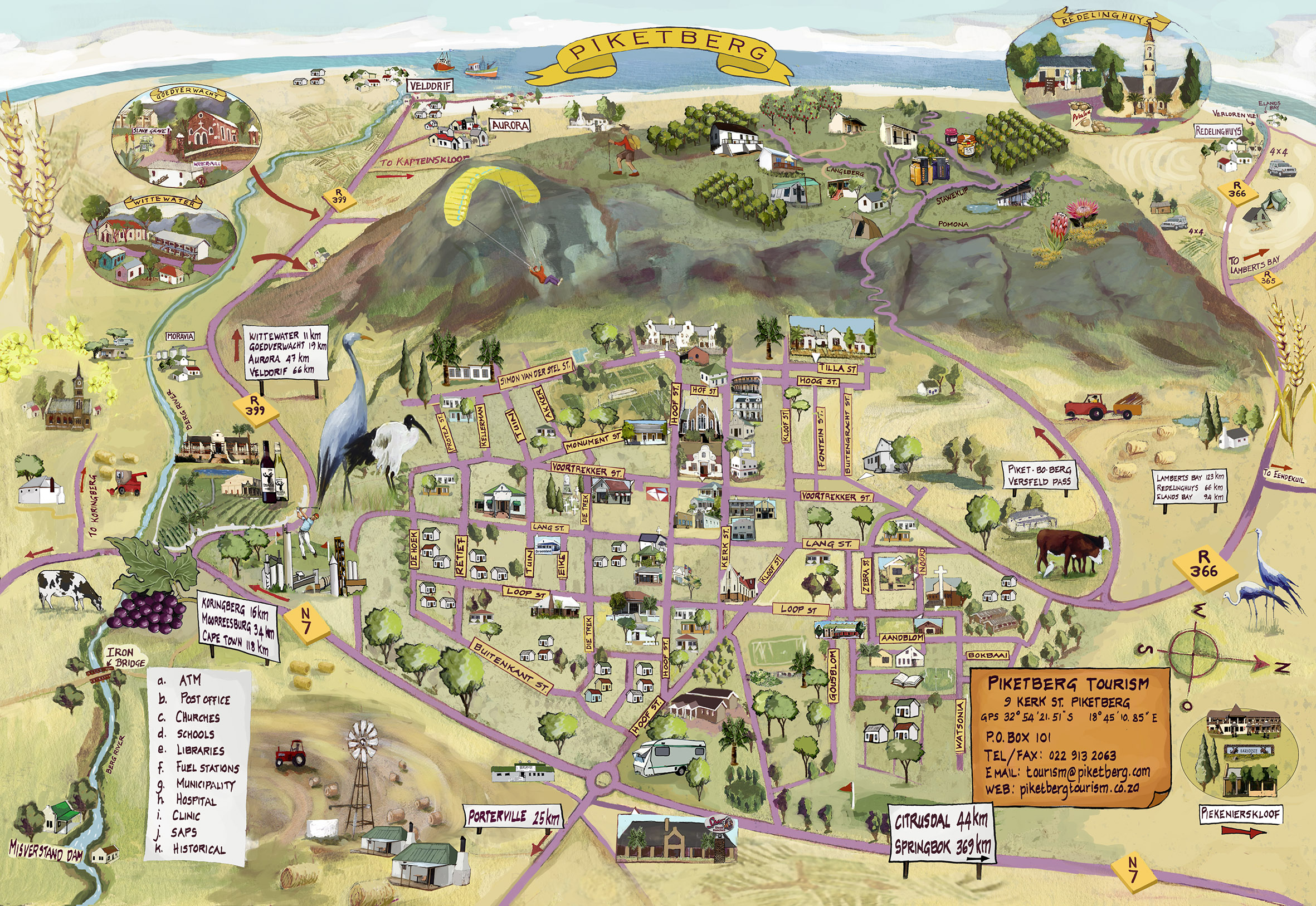 Itinerary suggestions for Piketberg and the surrounding area
Discover the true magic of Piketberg by spending a day visiting the greatest sights in and around this quaint Weskus town. It is an area of contrast and unexpected beauty that traverses rugged mountains and shelters bountiful valleys. The town nestles among undulating wheat and canola fields, vineyards, fruit farms and rich fynbos.
Itinerary Option 1:
Piketberg in a Day

Itinerary Option 2:
Piketberg Gems

Itinerary Option 3:
Walking Tour of Piketberg

In the morning, visit Piketberg Museum for a guided tour of the Edwardian style museum house as well as the old Synagogue.

Time frame: 1 hour

Piketberg Museum
Marié Ehlers (Curator)
022 913 2177
Coffee/Tea can be arranged for large groups.

Take a drive to Redelinghuys for a town walk and see painted houses done by a local resident of the town. Each painting has a different story to tell and is quite amazing to see.

For information call Piketberg Tourism: 022 913 2063

Museum Tour: The Piketberg Cultural Historical Museum opened in 1983 and the museum has a unique atmosphere of both history and charm. The museum archives contain the fascinating story of the Piketberg Jewish community and also have a fantastic medicinal herb garden.

Piketberg Museum
Marié Ehlers (Curator)
022 913 2177

Depart to Org de Rac for oysters & cap classique tasting. Org de Rac is an organic wine estate that lies on a hillside next to the Berg River. It is more than vineyards, wine, lavender, rosemary, olives, fantastic views and beautiful surroundings.

Time frame: 1h45min
Org de Rac
022 913 2397
A platter can be arranged for lunch while visiting Org de Rac.

Visit Sandveld Dorphuys for fresh home bakes and coffee. Browse around and discover the art collections and archaeology.

Sandveld Dorpshuys
022 962 1746
083 450 0887

Dutch Reformed Church: The church was designed by Carl Otto Hager, an architect responsible for ten other Churches in the Cape Colony. The Neo-Gothic design was built with Table Mountain Sandstone. The interior boasts a beautifully handcrafted pulpit carved from imported wood from India as well as Yellowwood and Oregon pine.

Dutch Reformed Church
Office: 022 913 1750
Care Taker: 072 476 2313

An afternoon drive up the Versfeld mountain pass takes you to Kruistementvlei, an eco-friendly farm for a farm walkabout.

Kruistementvlei Farm
Riette Bryant
022 914 5652
Lemonade/ginger beer under oak trees can be arranged.

On your way back, stop at Goudkop Bush & Detox Camp to spot some of their wildlife.

Goudkop Bush & Detox Camp
022 962 1669
082 385 9931

Katzeff House: The house was build in 1844 and was one of the earliest houses in Piketberg. It used to be known as the Parrot house from 1894 until 1904 and was owned by Mr.William at that time. It became the Katzeff house in 1937 when Jacob and Sonia Katzeff purchased the property.

A stop at the Fruitlips Jam factory is a must to stock up on local artisan jams and chutneys.

Fruitlips Jam Factory
Liebré Jacobs
022 914 5050

In Piketberg visit the Droomland complex for some Curio Shopping and freshly baked cake. They offer a variety of rare products for all types of customers. This is surely a guaranteed quality and value for money shop.

Tell: 022 913 2333

Walk down monument street.

Contact the Tourist Information Office for Inquiries.
022 913 2063 / tourism@piketberg.com

End your day tour with a stop at the "UITSIG" where you can see beautiful views of Piketberg and the Rooi Karoo with the Olifants River Mountain in the back.

For information call Piketberg Tourism: 022 913 2063

Historic stop - Historic graveyard: The Jewish graveyard was the first graveyard in Piketberg and has more than 125 gravestones of which many are unmarked. It is believed that 35 belong to the Jewish Family while most date back to the 19th century and include many original families' graves. Some of the graves also belong to soldiers who fought in the Anglo Boer War.

Contact the Tourist Information Office for Inquiries.
022 913 2063 / tourism@piketberg.com

Visit Elsie at her fruit stall: Visit Elsie's fresh fruit stall on the corner of Lang & Kerk Street. Elsie has been a true inspiration to fellow Piketbergers and has been doing her stall for years now. You can always expect the best service and fresh fruit and flowers at her stall.

PIKETBERG WELLNESS PACKAGES

Please contact the Tourist Information Centre on 022 913 2063 or tourism@piketberg.com for pricing and inquiries.

Itinerary Option 4:
Kruistementvlei to Goedverwacht
(Wellness Tourism Itinerary)

Day 1:

Book into Kruistementvlei, an undisclosed gem lies atop the Piketberg mountain in the Western Cape where sincere nature lovers can experience the full spectrum of an eco-friendly farm. Whichever ravelling type you are: the more comfort orientated or the adventurer, there is a spot for you. Kruistementvlei Farm offers accommodation to both campers and self-catering cottage travellers.

Kruistementvlei Farm
Riette Bryant
022 914 5652
082 868 0214

Day 2:

Hike to Goedverwacht, situated in a fertile and well-watered valley, characterized by gardens willed with flowers. The trail is fully developed and marked for hikers.

Stay in any of the available Homestays for the night and interact with locals.

Goedverwacht Tourism
083 872 7149

Day 3:

Hike back to Kruistementvlei.